Presidential Dollar Coins
When shopping for coins, one the most popular coins are the
uncirculated presidential coins
. You need to keep in mind that such coins are called uncirculated due to not having any obvious wear and tear and appears to be in mint or brand new condition. It's possible to find commemorative coins that are hundreds of years old but still in excellent condition. In rare cases you may encounter a few with marks, and these are referred as "bag marks". The value of these coins are said to be based on age, being uncirculated and of course being in as new condition.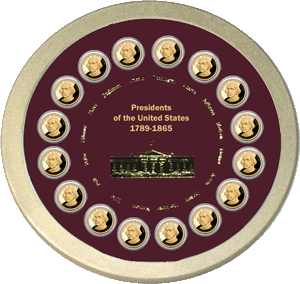 The US Mint has reportedly struck between 70,000 and 140,000
Monroe Presidential Dollars
on planchets intended for State Quarters. Instead of using the golden color coin blanks associated with the dollar coins, the silver colored blanks used for State Quarters was accidentally used. As a result, the error coins will appear silver in color instead of the intended golden.
Presidential Dollars
are supposed to have the mottos "In God We Trust" and "E Pluribus Unum" along with the date and mint mark inscribed on the edges of the coin. Missing Edge Lettering Errors occur when the inscriptions are missing from the coins. These coins can also be called Smooth Edge or Plain Edge Errors.
Presidential Dollar Coins