Silver Eagle Coins
Because investments in silver are likely to outperform that of gold, it would be a wise decision to buy
silver eagle coins
over gold. It is also important to buy silver cheap because that way the profit margin will be higher when you decide to sell it. A good way to do this is to buy silver in small quantities. A convenient place to make such an investment is through the internet. There are many sites on the internet that fulfill such a purpose.
The American Silver Eagle coin,
like other coins minted in the United States, began its life from legislative bills, in this case initiated by Senator McClure and Representative Craig in 1982 and amended by Senator McClure's 'Liberty Coin Act' in 1985 and signed into law by President Reagan in the same year.
The point of the legislation was to maximize the return on the sale of strategic stockpiles (Defense National Stockpile) of silver (to help balance the Federal Budget) through the production and sale of silver bullion coins. As the stockpiles were being depleted, as intended by the initial legislation, President Bush signed the 'Support of American Eagle Silver Bullion Program Act' in 2002 to extend the coinage program through the purchase of silver on the open market.
Senator McClure's 'Liberty Coin Act' stipulated the parameters of
the Silver Eagle,
including its size, weight, purity, obverse and reverse designs, inscriptions, and edge finish.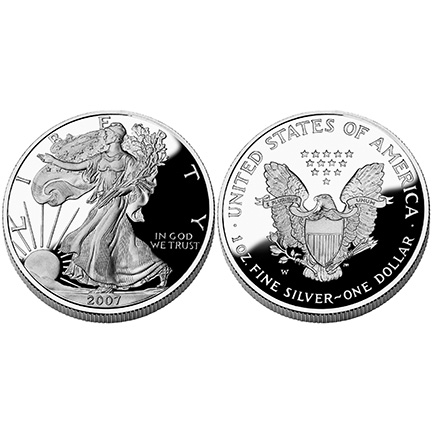 One of the most popular ways to invest in silver is to buy silver coins. One example is the American Silver Eagle bullion coin.
The American Silver Eagle
is the official silver bullion coin of the US. It is only struck in one troy ounce sizes and is guaranteed to contain one troy ounce of 99.9% pure silver.
One side of
the American Silver Eagle coin
has been borrowed from the Walking Liberty half dollar, and was developed by Adolph Weinman. Most people think that this depiction is most attractive designs ever created for a silver coin, so it was an appropriate selection. Sculptor John Mercanti designed the other side of the coin, which reflects an eagle carrying a shield.
American Eagle Silver Coins are smart investments, highly collectible in nature and memorable keepsakes or gifts. Of all the silver coins ever minted throughout the history of the United States,
the American Silver Eagle dollars
are certainly one of the most beautiful.
Silver Eagle Coins