Coin Collecting Supplies Wholesale
Coin Collecting Supplies
By Daniel K. Voyles

Whether you are just starting out, or are an old hand at collecting coins, you will need a few basic coin collecting supplies on hand. There are things to store your coins as well as items needed to safely examine your coins. I will go through a list with you and suggest some things you will definitely want to have on hand as well as things you might want to add later.

You will probably want to start out with some basic holders for your coins. There are 2 X 2 cardboard coin holders that you insert your coin into and fold over and staple. These come sized for each type of coin. There are also plastic coin tubes you can place your coins into. Another type of holder is a round airtight acrylic container that cushions and seals each coin into its own safe capsule.

Boxes are available that will hold your 2 X 2 coin holders and also your coin tubes. This makes organizing your coins a lot easier. You can also purchase albums that hold vinyl sheets that hold coins. These sheets allow viewing of both sides of the coins. This is a great way to have your coin collection handy for viewing.

Magnifiers are a must in your
coin collecting supplies
for examining your coins. You can choose a simple magnifying glass when you first start out. Later you might want to add a jeweler's loupe. Most loupes and magnifiers are available in magnification from 2x to 20x. There are magnifiers that attach to the frame of your glasses. Another version of the magnifier is on a headband. These are also available with lights so your hands are completely free to examine coins.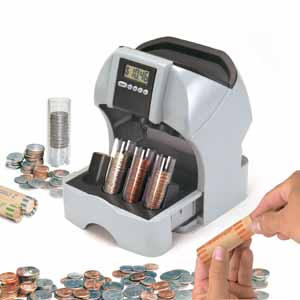 Some things you might want to add to your
coin collecting supplies
as your interest in coins grows are books that allow you to collect certain coins by the years they were minted and also by the type coin they are. I have seen books to collect dimes, pennies, and quarters. I am sure there are good ones to collect your half-dollar coins too. You simply insert the coin into the slot with the correct date on it. This allows you to keep track of which year or mint mark you still need to finish your collection.
You will want to have a book that helps you get started collecting coin. Start out with a book that deals with the basics and later add more books that deal with specific types of coins. There is also a variety of software that lets you keep track of your coins on your personal computer. These are very helpful and most can be updated directly from the place of purchase.
Coin collecting supplies
can be purchased from many sites on the internet. Each site offers a wide variety of items to help get you started.
So gather your coin supplies and start looking for coins. You can even start by buying rolled coins at the bank and sorting through them with a new eye for the interesting coin that might appear. Remember to handle your coins with care and treat them as a valuable asset, even if they are only of value to you.

Coin Collecting Supplies Wholesale